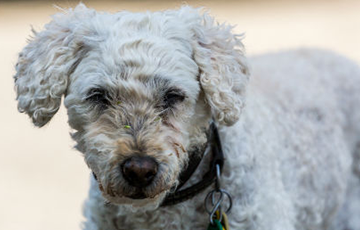 We have seen the effect of steroids at work in professional athletes, and we know too much about the dangers. The body produces natural steroids as a normal biological process. When this natural process goes out of control, your pet can become progressively debilitated and ill. Cushing's Disease is the result of excessive steroid levels in the body and, if not treated in time, can be fatal. It can also be caused by a growth (tumor) in the adrenal gland or the pituitary gland. Most dogs with Cushing's Disease are at least six years old, but the disease can also occur in younger dogs.
Dogs who have Cushing's Disease often develop very thin hair, muscle wasting of the legs and a pot belly. The steroids can suppress the immune system, leaving your dog open to the risk of infections and other health problems.
Diagnosis and Treatment of Cushing's Disease
Veterinarians can diagnose Cushing's Disease through the use of special tests, and the problem can be treated with medicine, although surgery is occasionally necessary. Unfortunately, Cushing's Disease is difficult to diagnose. There is no one test to identify it. Veterinarians will generally perform several blood and urine tests and compare the results to normal levels. Follow-up x-rays and/or ultrasonography can help reveal the presence or absence of a tumor.
Symptoms for Cushing's Disease include hair loss, increase water intake, a change in appetite, painful joints, and an increased susceptibility to skin and other infections.
Whether Cushing's Disease or any other health concern, we treat all the pets that come to us as if they were our own. Our complete health care services include chronic and acute conditions as well as sharing ways to practice preventive care when it come to your pet's health.
Our staff will fully explain any recommended treatments and prescriptions for your pet. If surgery is recommended, we offer both blade and laser surgery. Bring your pet in to Town & Country Animal Hospital in Naples FL for routine preventive measures such as inoculation, spaying and neutering, and for emergencies.