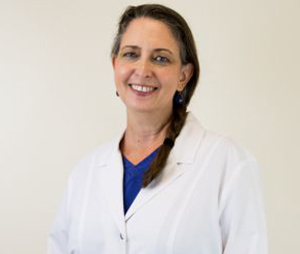 Dr. Deirdre Carver-Raffa is a small animal reproductive specialist.
Dr. Deirdre Carver-Raffa received her DVM from the University of Tennessee in 1993. Prior to that, she received a Master in Science of Reproductive Physiology from West Virginia University in 1989 and a Bachelor of Science (magna Cum Laude with High Honors) in Animal Science from the University of Florida in 1986. She then practiced mixed animal medicine in Florida until 1999 when she entered and completed a residency in Equine Reproduction in 2001 at the prestigious University of California, Davis.
She returned to Florida in 2002 after practicing equine reproductive medicine at the largest racing quarter horse farm in California for one year. Dr. Carver-Raffa has continued to practice small animal medicine as well as her reproductive specialty since then.
She received her diplomate status with the American College of Theriogenologists in 2007 and is one of fewer than 125 Board Certified Diplomates in the world actively practicing small animal reproductive medicine in private practice. As a board certified Diplomate within a small animal practice, she espouses responsible pet ownership consistent with the standards of the AVMA, FVMA, AAHA, the American College of Theriogenologists, the Society for Theriogenology and the American Kennel Club.
Dr. Deirdre Carver-Raffa is the only board certified Theriogenologist in Florida recognized by Zoetis as an approved semen freezing center at the Town & Country Animal Hospital in Naples, FL.