Town And Country Facebook Posts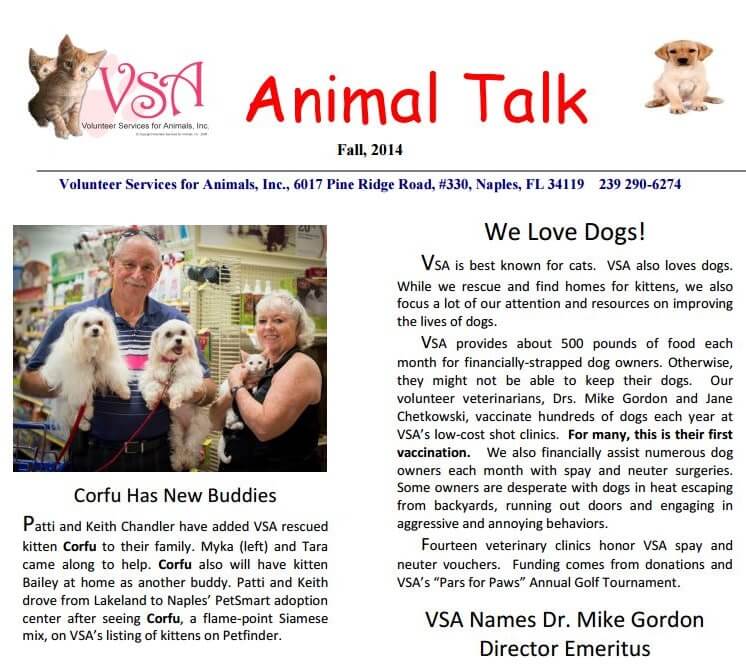 Town & Country Animal Hospital News
Dr. Jane Chetkowski and Mendy Gordon have been appointed to VSA's Board of Directors. Officers re-elected for 2014 calendar year by VSA membership included Phyllis Estes, president; Christine Avery, vice president; Yvonne Lamb, vice president; Angela Fieger, secretary; Amy Gaffney, treasurer; and Dr. Mike Gordon, director emeritus. Officers and directors serve one-year terms.
VSA ( Volunteer Services for Animals)offers free spay and neuter vouchers for "casually owned" cats and feral cats. A "casually owned" cat includes neighborhood cats that have adopted themselves to households. The vouchers include rabies and distemper vaccines. Call 239 290-6274 for more information. VSA issues low-cost dog and cat spay and neuter vouchers at PetSmart at 2255 Pine Ridge Road (next to Home Depot) each Sunday, 11 a.m. to 2:30 p.m. including the vouchers mentioned above. Please come to the adoption center.
R. Chetkowski Contributed To A Recent Article About Feline Hypertension In Bella Magazine.