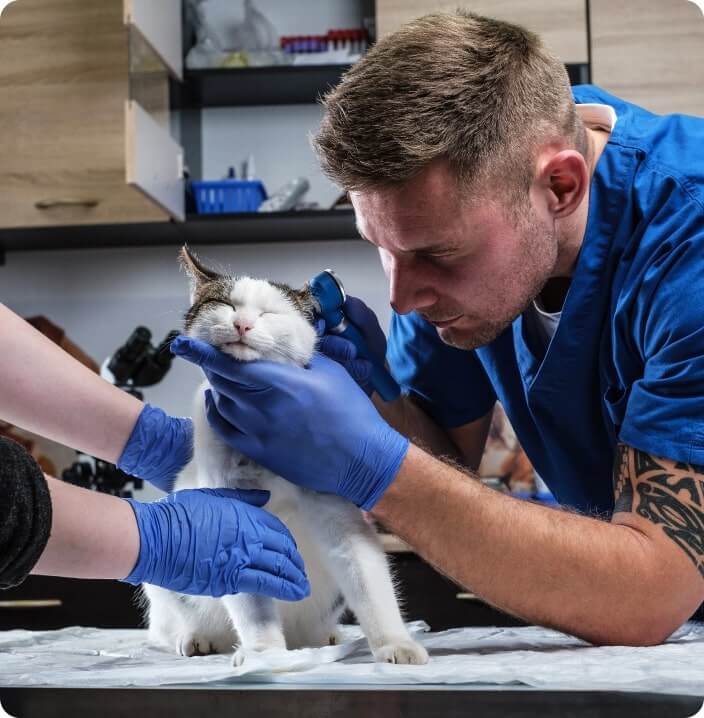 Town & Animal Hospital Country offers the best in terms of prevention, diagnosis, and cure of limitless medical issues in cats.
One of the most important things when caring for your loved cat is to ensure that they are living a life without the complication of feline medical conditions. A potentially fatal condition caused by heartworms living in the organs of cats like lungs, heart and blood vessels causing extreme complications including organ failure and lung diseases. The treatment of Heartworm disease varies from species to species.
The manifestation of heartworms in cats may not flag any immediate danger but if kept unattended for long can pave the way to substantial medical conditions including respiratory diseases.
What are the immediate steps to be taken?
These signs are not always conspicuous but if they occur, take your cat down for a check-up immediately to avoid any further complications. It is important for the cat owner to monitor the cat to look for any signs of heartworm manifestation. Heartworm treatments often result in the cat to collapse. If any such instinctive or physical change is noticed, your cat definitely needs medical attention right away.
Apart from Heartworm Treatment, Town & Animal Hospital Country offers excellent Dental care in cats which is often overlooked by the owner and as a result develops periodontal diseases.
Also, you can receive world-class treatment for skin infections in cats that are common and can range from minor to severe infectious growth.
Moreover, our veterinary pros help to cut down any probable obesity-related diseases in your cat by providing the best treatment plan.

Lourdes Sanchez
19:59 05 Apr 23
Hoy acudí con una Emergencia a esta clínica recomendada por otra clínica y tuve muy malas experiencias en cuanto al trato y al servicio en este lugar, el personal poco atento e insensible

Cindy Abbs
16:34 05 Mar 23
Needed a Naples veterinarian for my pup's updated immunizations. Town & Country took us in within a week of me contacting them and they were amazing. The office staff, vet tech and lead veterinarian were so compassionate every step of the way. So pleased that we have found our "snow bird" veterinarian practice that's also only 3 miles away. Bonus is they also have Science Diet products (amongst other items) for sale. Highly recommended!

Debbie Swanson (Deb)
20:19 09 Dec 22
The staff at Town & Country are the greatest and most professional, and both Dr. Carver and Dr. Jane have the best rapport with the animals, treating them as they would their own. The facility is amazing! What a delightful visit we have when we go to see the family at Town & Country!

Kent Bowlin
14:47 07 Oct 22
Thank you to doctors Carver and Jane, also the entire staff for taking such excellent care of our little girl Gracie Lynn Bowlin. We have been bring bringing Gracie to Town & Country for many years. We have recently move to N.C, concern that we wont fine the excellent care that we are use to. Thank you all for being sooooo good to little Gracie girl, never had to worry because we knew she was in very good care. Thank you, The Bowlins.

My husband and I have been taking our dogs, Callie and Atticus, to Town and Country Animal Hospital for a few years now. Whether it is a well visit or a sick visit, Dr Jane and the entire staff are always outstanding! They are kind, professional and knowledgeable and we always leave knowing that our dogs have gotten the best possible care. We love our dogs very much and are very happy that we found such a wonderful vet and office staff!

George Luther
23:29 18 Jul 22
The doctors and staff at the Town & Country Animal Hospital are professional and caring. They treat my dogs like they were family. Their facility is always clean. Very highly recommended!Updated July 2022 - As the years go by and as our dogs get older and eventually pass on, Dr. Jane and her staff stand ready to care for our furry family in a professional and compassionate way. Their offices and treatment areas are impeccably clean. Their access to technology and specialists inspire confidence in their care of our pets. Lastly, their compassion for our "kids" and ourselves leaves us feeling confident that we have chosen the best vet in town. Thank you Town & Country!

Lisa Hamblen
12:07 10 May 22
My dog is my baby and they treat her with the same love I give to her. That is very important to me. Dr. Jane is always ready to answer questions and give advice. I use their grooming service right next door also and I have been very pleased. So convenient and her groomer, Devon, loves her almost as much as I do. My entire street takes their pets here. Just like extended family.

trevor baker
09:49 14 Apr 22
Called to set a appointment for my dog that possibly has cancer and my vet referred me to town n country,. Talked to the first person and she set up appointment for me and took a 150 dollar deposit to hold spot and said that after Dr reviewed our dogs chart she would call us back, so 2 days later, since we got no call we called back and talked to a different person that told us many different things that were not true and acted like she don't care about our pet or us for that matter, told us things and fhen did the opposite, so we called back and talked to the so called manager who told us the dr called and left a message with our vet which was false then said maybe the dr had wrong number but it's on the letter head that our vet sent to town n country. But still didn't want to refund our deposit because they don't have the equipment to perform the procedure and they canceled our appointment. But yet we text messages and phone calls confirming our appointment that they cancelled! VERY POORLY RAN OFFICE, and no compassion for us or our pet…. To the staff if you don't like your job then maybe you should find a new one. Found a new new place after research with our vet that when we called was very professional and caring! Maybe this is a blessing in disguise, our pet will be better off not going to town n country!!!

Lindsey Morgan
12:27 06 Dec 21

Sandra Abbondandelo
23:02 09 Sep 21
Dr Jane and Dr Carver are the most caring veterinary's in Naples. They have been taking care of my two beagles, Kelly and Gigi for the past two years. Unfortunately Kelly Passed this year. My little Gigi has cushings desease, and right now off the medication and in remission. They follow up with updates, and let you know the best route to go. The Staff are caring and polite. The hospital is spotless. Everyone that had any animal should go here and have the best care.

George Feurtado
23:20 18 Aug 21
I had the doctor look at my 11 year old German Shepherd Titus. His issue with his right rear hip and she recommended some pain medicine and some anti-inflammatory medication and it's been 4 days and I have seen a vast Improvement in the way that he's walking now. Very happy with service.

Sheila Degan
23:40 25 Jul 21
I recently brought my new puppy for his first visit with Dr. Jane. From the checking in process to the checking out process everything and everyone was exceptional. The Vet tech spent time going over his records from the breeder answered all my questions and Dr. Jane examined him, gave me all the information I needed to get my puppy off on the right track. I left knowing I picked the best Vet for me and my puppy

Danielle Durrenberger
12:45 16 Jul 21
I recently adopted a dog from DAS and was recommended highly from multiple sources to go to this vet. DAS gave us a list of vets that offer free first exams which this vet was on. I called to book an appt and was told I needed to go online and fill out a form for a new client and would be called if there was an appt available within those 10 days (for free exam). I was called back and was told there was a cancellation and they could get her in the next day (I was thrilled and grateful). They asked if I had any concerns and told the lady that she had this weird cough and wanted it to be addressed on our visit. She informed me that there would be an extra cost if an additional exam or services were needed. I was totally understanding of that.We arrived at our appt and was not greeted friendly. The lady said "who are you checking in" I said my dogs name and she walked to the back and didn't acknowledge me or even say go ahead and have a seat, the vet will be right with you. NOTHING. The other lady at the front asked if we had been helped since I was still standing there and I answered "I'm not sure" the lady who originally helped yelled from the back "they've already been checked in".We get into the exam room and the nurse asked us if we noticed any issues or had any concerns. I told her about the cough I had told the lady who called to book my appt about. She said "ok well since she's sick I just want you to know your free exam will not be honored since there's an issue" we then told her she did not seem sick but we wanted to address the cough and that was not what we were originally told" (I reiterated my phone conversation with her) she said "well you were told misguided information and I apologize but that is not our policy" we decided to stay and continue with the exam since we needed to at least have her checked. The nurse came back in before the vet and continued to tell us that "we do this as a service to the community for healthy dogs adopted from DAS and are not responsible for doing an exam on a sick dog"The vet walked in and assessed the dog. She said she was not acting sick or had any other signs or symptoms but could probably say it was upper respiratory. She continued on about possible antibiotic treatment and how we need to highly consider receiving flu vaccine as well. There was no conversation about heart worm or other vaccinations that were needed.We left and paid the extra fee but am completely frustrated, confused and puzzled. How could a place so highly recommended give such horrible customer service without thorough direction or communication.

Naples Common
23:14 09 Jun 21
Dr. Chetkowski is the perfect combination of knowledgeable and compassionate.

susan laffey
02:40 16 Mar 21
I feel they are very caring with my pets. They usually follow up with a call and explain all procedures.

Maureen Seward
13:09 28 Jan 21
I highly recommend Town and Country Animal Hospital. Their staff is extremely friendly, helpful and professional and Dr.Jane and Dr. Carver are the best. They are extremely thorough and give you as much time as you need to explain everything. Our Labs are usually a little nervous before the visit but are then relaxed with the staff and Doctors during and after their visit. We have called for copies of our Pets records while out of state and the staff was extremely responsive, and concerned that our pets were OK. They sent us the records immediately.

Marianne dominguez Viera
15:01 16 Dec 20
My first experience with Town & County staff was awesome. They took the time to explain all what we need to know as first time dog owners. Definitely recommend this place to take care of our beloved pets❤. Thank you to all the staff😊

Donna Hardy Johnston
14:02 23 Nov 20

Marion Vaughan
19:41 18 Nov 20
We are so Happy to have Dr. Jane, Dr. Carver, and staff in our Lives!We have 3 Cats and a Dog now, but when we first came to know Town and Country Animal Hospital we had 7 cats and 2 dogs. With the help ofDr. Jane and Dr. Carver and staff we were able to get them on a healthypath. Due to age we lost some of our cats and dog, The Doctors and Staffwere there for them and Us every step of our journey. The caring and understanding was amazing!! The Doctors always explained what was going on so that we understood how to take care of our animal family. We even received sympathy cards in the mail!! Wow!! You are Truly Amazing!! I would tell anyone with pets to go to Town and Country!!Thank You All!Marion and Andre Vaughan , Pets: Skiddles, Rascal, BJ and Play Vaughan

Suzanne Conklu
01:57 20 Oct 20

Sally H Griffin
01:48 06 Oct 20
Dr. Carver and her staff are top notch. They have taken care of my dogs since 2015. To explain and show the compassion and dedication they have to their jobs I can sum by many examples. I will state my latest one: I have a Jack Russell Terrier who is 18 years old, she was under Dr Carver's care until I moved to another part of Florida in August of 2019. Recently my dog has been declining. I reached out to Dr Carver's office for advice. Her staff informed her of my situation, mind you I am no longer near the office and she hasn't seen my dog since July of 2019, Dr Carver called me and we discussed quality of life. I asked her could I send her some videos of her and she said of course. When Dr Carver saw the video she called me and advised with such compassion to do what is best for my beloved Dotty. I am eternally grateful for Dr Carver and her staff for the care they provided me and others I know that trust their animals to her care. Dr. Carver is not only a vet she invests in the parent of the fur baby. I love you all at Town and Country! Naples this is the best vet and office in SWFL!

Can not say enough amazing things about Town & Country. The moment we spoke with Heather, the amazing Tech to Dr Jane and Dr Carver we knew our new puppy Buddy was in the best hands. They are very compassionate, truly care for your pet and very adorable! We look forward to seeing you all again and thank you for taking such amazing care of Buddy!Sincerely,Buddy & The Stone Family

Hugo Leonel Paiz
23:32 01 Oct 20

David Becker
11:37 22 Sep 20
Compassionate care provided by fantastic, efficient staff. Dr. Jane has been our vet for almost 10 years and she has always taken the time to explain the diagnosis and treatment plan. If you are in need of a vet for one of your animals, look no further.

Debra Wright
00:25 27 Aug 20
Dr Jane and Dr Carver and their wonderful staff have been taking care of all my fur babies for years. They are so kind and compassionate to my pets and me. Wouldn't go anyplace else!

Courtney Bennett
04:26 12 Jun 20

Judi Miller
23:13 09 May 20
My dog broke 2 teeth and had to have roots removed. Dr Chet and her staff at Town and Country Vet were so sweet and curteous yet professional. I received calls after we went home to check on his status. He was actively running around the next day and feeling great. Thanks Dr Chet, Staci and all the girls in the office. My Little Buddy is doing GREAT!

Amber Depinet
01:06 07 May 20

Jen Gustafson
00:08 13 Apr 20
Highly recommend! Super friendly staff, and the Doctors really take time to explain things well. The facility is always clean. They truly provide the best care and follow up. I've been taking my dogs here for years and will continue! I'd give 10 stars if I could 🙂

Mary Lentzen
16:12 26 Mar 20
Dr. Jane and staff are always attentive and caring. Dr. Jane has researched causes and treatments of my cat's chronic ear problems, and offers options for moving forward. She also provides advice on daily issues such as feeding an overweight cat. I trust the information I'm given, and appreciate the care and quality of the services provided to my animals.

Diane Hackem
19:59 19 Mar 20
Dr Jane performed a dental cleaning on my ten year old cat, Sami. I was a bit concerned. because of his age and he had experienced a slight reaction to the anesthesia during his last cleaning. Dr Jane reviewed Sami's previous vet records and thoroughly explained the anesthetic process she would use. Sami came through the cleaning with no after effects at all. Thank you, Dr Jane and the kind and very capable staff. Randall, Sami and I appreciate you very much!

Rebecca Davis
04:17 18 Mar 20
Thanks so much for seeing my sweet Ralphie. You worked me in when there was a cancellation. Everyone was friendly, took their time, discussed treatment options for his allergies and ear infections. I appreciate so much.

Super friendly staff, clean facility, fair and affordable pricing, and made my dog feel safe

Caren Kipp
23:46 09 Mar 20
Dr. Jane is phenomenal!! Staff is exceptional!! Service is amazing!! Thank you all for everything...my fur babies love Town & Country.

Stacey Maclay
14:53 01 Jan 20
I have a 16 .5 year old black cocker and Dr Jane and staff is the best to take care of an older dog. Highly recommended them

PATTY Vahle
00:30 13 Dec 19
we can't say enough about Town and Country Animal hospital. We were stranded with no one to take 5 feral cats to get fixed and in cages for two days until they welcomed us with open arms and VERY caring staff. With short notice! All 5 were healthy and felt good only after two days. Dr Jane also came out to speak to us when we came to pick them up the same day. Wonderful, caring people and we won't forget that.

Carol Reimers
16:09 04 Oct 19
Both vets are knowledgeable and compassionate. The staff is friendly, caring and efficient. The fees are fair and competitive. I Highly recommend this animal clinic/hospital!

Jermaine Anderson
02:43 23 Jul 19
I have worked very closely with Dr. Jane & Dr. Carver for the last year and they have an excellent practice. Their entire staff is extremely professional, knowledgeable and I trust them explicitly with our dogs. I highly recommend their services.

Mike Sexton
18:43 06 May 19
I won't go anywhere else 6 dogs and Doctor Jane K...I highly recommend her and the staff is wonderful and very helpful also been there for years so great familiar know your faces!! Be part of the family and find out yourself you won't be sorryMike Sexton

Very friendly staff, was given a few options and able to pick a treatment that was in my budget. This was my dogs first vet visit and she is nervous around people. The staff was patient and my dog did well considering. I would definitely recommend Town and Country Animal Hospital to anyone that is looking for vet services.

Ashley Palumbo
00:52 06 Feb 19
Dr. Jane was wonderful. I came in with a kitten that we had found abandoned in Naples while on vacation (after 3 days of trying to catch her) and we made an appointment with Dr. Jane who kindly fit us into her busy schedule to ensure we could get the kitten checked out. Not only did she take the time to do a full examination and determine exactly what the kitten needed, but she also took the time to connect me with a rescue group (and even had the head of the rescue come in to the office so I could meet her). I was torn between taking her on a plane home with me where there was a potential adopter, and handing her over to this group that would take wonderful care of her and find an adopter in Naples. I couldn't believe how much time she spent with me explaining my options and ensuring the kitten was well taken care of when I was visibly struggling with what to do. She was so kind and patient and it meant a great deal to me. I would highly recommend her!

Mike Sullivan
17:04 06 Sep 18

Ramona Kilian
15:40 25 Jun 18
I came in with my Puppy without an appointment. The crew was so nice and friendly and took care of my Puppy right away. He got all his vaccinations, his claws were cut, his ears were cleaned and the doctor took her time to check everything. I paid under $100 and got one month free heartworm treatment. The doctor also gave me great tips for a Puppy training and how I'll get my Puppy potty trained.

Janet Wolfe
18:31 23 Apr 18
The staff are amazing the prices are the best I've seen and they even help me in and out of my car if I have more than one animal. Great place to go for my furry family

Marcus Samborski
18:45 23 Jan 18
Best Services available in golden gate estates. My cat has had his ups and downs here but all in all he's gotten the best care. Highly recommend to all pet owners!

Julia Martinez
12:08 19 Oct 17

Kreg Atterberry
17:57 14 Sep 17
I have worked with Town & Country Animal Hospital for a few years. They have an excellent, attentive staff and I really like the vets. Good folks to take your pet to.

Kathleen Ennis
21:23 10 Jul 17
My dogs have been patients of Town and Country Animal Hospital for several years for everything from routine care to difficult surgeries to relatively unusual health issues and recently, an auto-immune disease. The two vets at Town and Country are both gifted women who take time with their patients and owners and the staff is friendly, competent and caring. In addition Town and Country Animal Hospital is AAHA accredited, the gold standard of veterinary hospital care. I would recommend Town and country to any dog owner.

Julie Glowacki
16:35 16 Jun 17
The absolute best vet in town! I moved here from Michigan in September and was looking for a great, trustworthy vet. I have found them! My cat Libby has kidney disease and they always find time to fit her into their busy schedule. Love this place! The staff is great!!

Cynthia Sealy
19:07 25 Jan 17